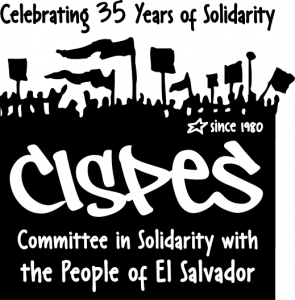 2015 is a landmark year for the Committee in Solidarity with the People of El Salvador. We're celebrating 35 years of anti-imperialist resistance!
Join us on Thursday, December 17 at 6pm for the CISPES 35th Anniversary Celebration!
At this inspiring moment of leftist leadership in El Salvador, come and learn about the progressive changes underway in recent years – from the expansion of community health services, to the strides towards food sovereignty under the Family Agriculture Plan.
Enjoy a typical Salvadoran dinner, raffle, and dancing! And meet the generations of CISPES supporters who have accompanied the ongoing struggle for social and economic justice in the Americas.
Please register to reserve your spot and purchase your ticket in advance!
Tickets can also be purchased at the door but advance tickets are strongly encouraged.