Revolutionary Supper Club – April 19 at 5:30 p.m.
The event provides an opportunity to talk with some of our very own elections observers, as well as several longtime Latin America solidarity companer@s.
We're excited about the recent victory of FMLN president-elect Salvador Sánchez Cerén. The election of Sánchez Cerén, a former comandante and union militant, is a great sign that El Salvador's radical transformation will continue.
Please join us for good food, time with good friends and a celebration of the strength of the Salvadoran social movement!
Event details:
When: April 19, 5:30 p.m.
Where: 2821 2nd Ave. Seattle, WA 98121
Cost: $20-35 per plate, sliding scale
Please RSVP to seattle@cispes.org if you plan to attend. And you can make your donation via Paypal here. We look forward to sharing a meal with you.
May Day – May 1
May Day is International Workers Day, a time to celebrate the power of the working class to win social and economic justice. The United States is threatening workers' rights in El Salvador by ransoming an economic aid package and demanding that El Salvador privatize much of its public sector.
Faced with this blatant attack on workers' rights and El Salvador's sovereignty, join us in marching to demand an end to unjust economic policies that drive down wages and living standards across the Americas.
Be part of the CISPES contingent.This year's march will begin in Judkins Park at 3 p.m. and head to Westlake. Find us holding our banner.
Solidarity Cycle – June 21-22
Pacific Northwest summer is just around the corner, and it's time to start thinking about how awesome a long bike ride in beautiful weather will be. Add on to that radical fun times with your favorite CISPistas and you've got the 2014 Solidarity Cycle.
This event is open to all members of the community who are interested in going on a beautiful bike ride while supporting the rights of Salvadoran public sector workers.
If you would like to join us on the ride, please contact
seattle@cispes.org
or call
(206) 325-5494
. If you'd like to sponsor a rider, contact us or donate directly through Paypal
here.
We're looking forward to seeing you soon.
Seattle CISPES had for delegates who traveled to El Salvador to serve as accredited observers to the Feb. 2 election. The delegates will speak about the trip on Feb. 18. The following are selections from the El Salvador 2014 Elections Blog: News and International Observer Reports from El Salvador's 2014 Presidential Election.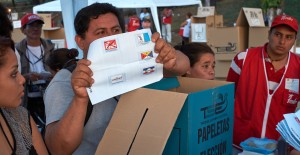 "US Embassy Congratulates El Salvador for 'Orderly and Transparent' Elections": On Monday, February 3, the US Embassy in El Salvador released a press statement congratulating the people of El Salvador for an "orderly and transparent" Election Day. The international solidarity community welcomed this statement, which comes on the heels of a vast grassroots effort to ensure US neutrality in the face of these historic elections…
"President Funes reports that 24 companies have been charged with influencing votes": Mauricio Funes, President of the Republic, revealed that a total of 24 companies have been charged before the Labor Ministry for coercing their workers to vote for a particular political party in the second round of elections, which is a felony punishable with jail time…
FMLN Announces Plan to Increase Margin of Victory Heading into Second Round": About 10:45 CST, Salvador Sánchez Cerén held a press conference to express his confidence that if the FMLN doesn't win tonight in the first round, that their margin of victory will increase on March 9th…
"CISPES Mid-Day Report, Lots of People Coming to Vote, Polling Places are Calm": CISPES observers report high voter turnout, as well as a calm environment. Several observers have commented on a lot of support and co-operation among poll workers to make sure that people with disabilities and people with limited mobility are able to vote…
"Ex-President Francisco Flores was Caught Trying to Flee the Country": Former President Francisco Flores tried to flee the country by crossing the Guatemalan border hidden in a truck on Tuesday, January 28, according to President Mauricio Funes. Flores, who is currently under investigation for embezzling $15 million donated by the Government of Taiwan, failed to appear Tuesday morning for a hearing…
"Left Poised to Win in Upcoming Elections in El Salvador and Costa Rica": The Tico Times has published an English-language article comparing the two upcoming elections in El Salvador and Costa Rica, both be held on February 2nd. In both countries, the left is poised to possibly win…
"Supreme Court Prohibits Public Functionaries From Campaigning": This past Friday [January 24], the Constitutional Chamber of the Supreme Court issued a resolution that prohibits public functionaries from participating in a current presidential campaign, regardless of whether they do so outside of work hours…
This article originally appeared in The Daily of UW: http://dailyuw.com/archive/2013/11/24/news/cispes-visits-uw-part-west-coast-tour#.Uqt_RfS1ySq
Francisca Iraheta Romero, public school principal and member of the oldest teachers union in El Salvador, discusses the importance of U.S. neutrality in fair and free elections around the nation.
Photo by Peter Brennan | Courtesy Photo
November 24, 2013 at 8:51 PM | Christina Cho
On Friday afternoon, the Committee in Solidarity with the People of El Salvador (CISPES) visited the UW with Francisca Iraheta Romero as one of the final destinations of their "The Road to Victory" West Coast speaking tour.
With this tour and other efforts, CISPES is aiming to garner congressional support for a "Dear Colleague" letter addressed to U.S. Secretary of State John Kerry, demanding that the Department of State issue a statement of neutrality with regards to the 2014 El Salvador presidential elections.
"For every election in the past 20 years, the U.S. has come out on the side of the right-wing. We want the United States to have in writing that it will be neutral in the upcoming elections," said Allen Hines, Seattle CISPES coordinator.
 The letter claims that in the 2009 election, the people of El Salvador voted "without fear of reprisal" and elected the Farabundo Martí National Liberation Front (FMLN) because the United States ensured its cooperation with any party that the Salvadorans decided to elect.
"We want to continue the progress we made since 2009," said Romero, by way of Aisha Ashraf, a UW student and CISPES supporter serving as a translator.
Romero joined the CISPES tour to emphasize the importance of U.S. neutrality in the facilitation of fair and free elections in El Salvador. She is a member of the ANDES 21 de Junio, the oldest teacher's union in El Salvador, and a public school principal to approximately 1,600 students, many of whom come from low-income families.
"The union has been fighting the privatization of the local schools," Romero said. "The privatization of education is dangerous for the people because they would have to pay for it, and it couldn't be accessed by so many people. Right now, it is a free program that is giving back so much to the community. People with such small incomes would not be able to pay for the education and careers for their children."
ANDES 21 de Junio continues to improve the quality of education by ensuring that training of the educators is relevant and competent. Romero explained that the union works internationally with other groups to build different methods of teaching to better the education received by the kids.
"It is really important for these kids to have this right to education," Romero said.
Ashraf added that the FMLN has pioneered several programs to combat neoliberalism and privatization in El Salvador, especially when it comes to education.
"[The FMLN] was able to run a national literacy program and got free shoes, free uniforms, free meals for the children, and that was sometimes the only meal they would get," Ashraf said. "The FMLN has made possible so that Salvadorans don't need to leave their home to gain funds; they don't need to come to America to gain money. They can start programs there, including social programs."
Romero's plea to the students of the university was to learn more about the issues of her country and to stand in solidarity with Salvadorans, who want the freedom to vote in complete fairness.
"We need to be organized in the world to help each other," Romero said.
Hines added that all students had the power to make a difference by a simple action.
"The way that people could help is by calling their representatives and asking them to sign onto the 'Dear Colleague' letter," Hines explained.
"In the world, there are only two classes: the oppressors and the oppressed," Romero concluded.
Reach reporter Christina Cho at news@dailyuw.com. Twitter: @CCchews